Amazing apps from Virgin Media

Virgin Media Mail
If you've got Virgin Broadband you can use Virgin Media Mail too. We use Google to provide our mail service, so getting to grips with it is a piece of cake.
Here's how to get Virgin Media Mail
Not a customer?
You need Virgin Broadband to start using these apps.
How it works
You can choose an email address, like yourname@virginmedia.com. You can create up to 10 email addresses altogether, so you can get the rest of the family set up too if you like.
Once you're up and running you can: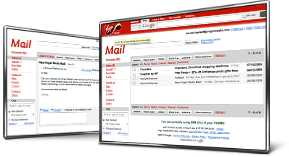 Import your contacts quickly and easily, so you don't have to type them all out
Set up your mobile to get access to emails wherever you are
Use Google search to find the exact message you want, whenever it was sent or received
Use your storage to archive messages instead of deleting them
What's included?

Manage all your accounts
Access all of your email accounts through your Virgin Media mailbox - even those from other providers.


It's easy to find messages
Use the Google search within Virgin Media Mail to find old messages, so no more hunting for that important message you sent months ago.

Oodles of storage space
With storage of 7.4GB (and growing) you'll never need to delete a message again. There's also a huge 20MB per message allowed for attachments.

Chat online with friends and family
Chat in Virgin Media Mail with the people you already email or reply to emails by chat.

Say goodbye to spam

Virgin Media Mail blocks junk mail before it gets to your inbox. If something does creep through, you can report it and help make our spam filters even better.

FAQs
Not a customer?
You need Virgin Broadband to start using these apps.