Amazing apps from Virgin Media

Virgin TV Anywhere
Take your favourite shows with you, wherever you go, with Virgin TV Anywhere on your computer, tablet or mobile. And it's free to all our lovely Virgin TV customers.
A great way to watch TV – and more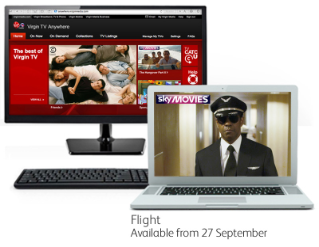 Got Virgin TV?
Use Virgin TV Anywhere to watch up to 80 of your favourite live channels and more than 2,500 hours of TV On Demand, anywhere with a broadband connection.

Use TV Anywhere on your desktop or laptop

Got TiVo too?

Take the TiVo experience with you. Discover new shows, manage your series links & WishLists and record things while you're away from home.

Got TiVo and an iPad, iPhone or iPod touch?
Lucky you! Watch live TV anywhere with WiFi. Virgin TV Anywhere even lets you control your TiVo box and share your shows on Facebook and Twitter. All in one clever little app.

New to Virgin TV?
You'll need a Virgin TV package to get TV Anywhere.
Take-away TV
Great TV shouldn't stay at home. With Virgin TV Anywhere on your laptop, iPad, iPhone or iPod touch, you can watch your favourite shows and a whole lot more - anywhere with WiFi.

Don't need a telly to watch TV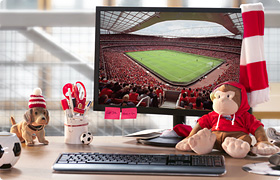 Watch up to 80 live channels and more than 2,500 hours of TV On Demand on your PC or Mac (or up to 57 live channels on your iPad, iPhone or iPod touch ). In another room, at the gym or anywhere else you can connect to WiFi.

Discover loads, share more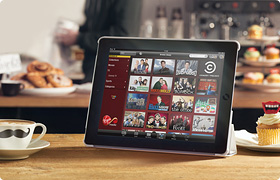 Grab your iPad, iPhone or iPod touch and use TV Anywhere to find something to watch before you're sitting on the sofa. Browse the TV guide or use search to discover new shows or old classics. Found something good? Then share it with friends on Facebook or Twitter.

Manage shows on the move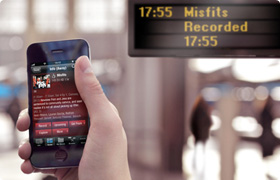 See what's on your TiVo box, even when you're nowhere near it. TV Anywhere lets you record shows, manage series links and WishLists and delete things from your box wherever you are. Or use the Thumbs to tell your TiVo box what you like or don't like so it remembers in future.

Control your TiVo box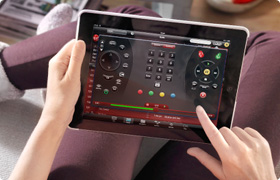 The Virgin TV Anywhere app turns your iPad, iPod touch or iPhone into a supercharged remote control, making it even easier to control your TiVo box with simple, responsive, gesture based controls.