Amazing apps from Virgin Media

Parental Controls
With Virgin Media Web Safe

Protect your family at home with Web Safe
Web Safe helps to protect any device connected to your Virgin Media home network. It blocks websites that it believes are unsuitable for children, fraudulent or contain viruses. It comes with your broadband package for free.

Protect your family
Child Safe helps to block any unsuitable content from reaching the devices connected to your home network. So if the kids are upstairs on their laptop, tablet or smartphone, you'll feel confident they won't see sites known to contain pornography, hate, crime, drugs, violence, hacking, self-harm and suicide.

Protect your personal information
Virus Safe helps to block harmful sites that may have viruses, phishing websites, blacklisted sites and scam sites – for example, fake banking websites. So you can check your balance, pay your bills or go shopping with that extra peace of mind.

3 reasons to use Web Safe
Helps to keep you and your family safe from inappropriate sites
Blocks sites on any device connected to your home network
Blocks phishing sites, scam sites and more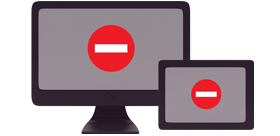 Don't have Virgin Media Broadband?
We've got the perfect broadband package for you.

Get increased protection with Internet Security
For an extra layer of online protection both at home and on the go, try our outstanding internet security package F-Secure SAFE®, powered by award winning security experts F-Secure.
Other ways to protect your family
We've got lots of useful tips for digital parents in our handy web app, Switched On Families.