TiVo – Discover TiVo – TiVo | Virgin Media

Introducing TiVo®
Uncover great new shows, catch ones you've missed or relive old favourites. Record, pause or rewind as much as you like, or enjoy cool apps like Facebook and Twitter. This is a more exciting way to watch TV.
Existing customers
Upgrade to one of our great Collections
Upgrade now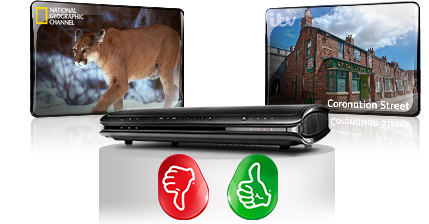 The future of TV, now
Our new TiVo service gives you lots of new reasons to love your TV – you'll watch all your favourite shows and have fun finding new ones. All the best entertainment, right there on your telly.
You still get all your favourite channels, including your Sky favourites, Catch Up TV, hundreds of on demand movies and shows, and even handy web apps like Twitter and BBC iPlayer.
Plus, you can pause and rewind live TV, record three shows while watching one you recorded earlier and even set it to record remotely from your laptop or mobile.
Virgin TV Anywhere – telly you can take anywhere you go
Take your TiVo box with you with the Virgin TV Anywhere app, available on your computer, laptop, iPad, iPhone or iPod Touch. Watch loads of live TV channels plus thousands of hours of On Demand. Discover new shows, record programmes or manage your WishListsTM even when your miles away from your box. And the best thing is it won't cost Virgin TV customers a penny extra.

Discover more...

Cabled areas only. New 12-month minimum term contract applies. Installation fee. TiVo box remains property of Virgin Media. Further legal stuff applies.
TiVo and the Thumbs Up logo are trademarks or registered trademarks of TiVo Inc. and its subsidiaries worldwide.
Free activation when you take a 500GB TiVo box as your first box. Installation fee (£49.95) applies.