Connect
Share the experience with your friends
At Virgin Media, we think one good turn deserves another. So if you think a friend would enjoy superfast broadband and a feast of digital TV channels as much as you do, refer them to Virgin Media and you'll both get £50 off your next bill.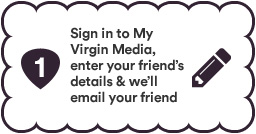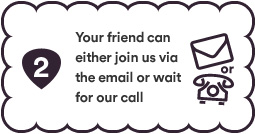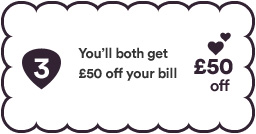 Refer a friend now
Prefer not to sign in to My Virgin Media this time? It's much easier if you do as we'll have all your details to hand, but if not you can also Refer a friend here.

Frequently asked questions

What Virgin Media services does this offer cover?
Refer a friend works for any cable service, so that's superfast broadband, digital TV and home phone. Your friend can choose from loads of packages including our great value Big Bundles. However, there are a few offers that the Refer a friend offer doesn't work with. For example, if you're on a 9 month student contract, you can't make referrals or be referred via the scheme unfortunately. Other offers not covered include Mates Rates, My Rates, Tribe, Partner Rates and any contract less than 12 months.

The Legal stuff
Refer a friend: To receive the Refer a friend credit, you must be an existing Virgin Media Cable customer (offer not available to Virgin Mobile or National customers). You must have your Virgin Media Cable services installed before you can refer a friend via the online Refer a friend referral site. You can make up to 25 referrals in any 30 day period. Referrals above this cap will not qualify for the offer. Virgin Media reserve the right to remove or clawback credits applied through the Refer a friend scheme if fraud or abuse is suspected or credits are made in error. Referral channels: A referral via My Virgin Media will need to follow the link in the email in order to be eligible for Refer a friend credit on their online sale. If your friend's telephone contact details are given via My Virgin Media or via our online Refer a friend site your friend will only qualify for the Refer a friend offer if they sign up when contacted by our Refer a friend team. If your friend signs up via any of our other sales channels (in our stores, via our Online sales site without following email link, etc) you and your friend will NOT be eligible for the offer. Referral: Your friend can subscribe to any Virgin Media Cable service (subject to status and credit checks) with the exception of Mates Rates, Partner Rates, My Rates, Tribe and contracts of less than 12 months in duration. This offer cannot be used with Free Install or upfront credit offers except where explicitly stated. Eligible friends are: (a) friends who'd be subscribing to Virgin Media Cable services for the first time; (b) friends who are existing Virgin Mobile customers with no other Virgin Media Cable services. If your friend has already placed an order through any other sales channel, the Refer a friend credit will not be applicable. Former Virgin Media Cable customers who have disconnected within six months of being referred aren't eligible friends. At the time of the referral, your friend must not have already been recommended by another Virgin Media customer. Credit application: Credits are applied to both the referrer's account and their friend's account on installation. When your friend signs up to Virgin Media Cable services they will receive a £50 credit on their first bill. You, the referrer, must be an active and installed Virgin Media Cable customer when the friend is installed in order for you both to qualify for the £50 credit. If your friend cancels their order before installation or within the first 28 days, or if we are unable to proceed with the installation for any reason, we may remove the Refer a friend credit from both accounts. Credits will not be: (a) applied retrospectively; (b) used to reduce any outstanding charges owed by you or your friend to Virgin Media (the outstanding balance must be paid in full before the credit will be applied); (c) applied to you or your friend's account or exchanged for cash if the agreement between you or your friend and Virgin Media is terminated for any reason. If you pass your friend's details to Virgin Media, you confirm that you have your friend's permission to do so. Virgin Media reserve the right to withdraw this offer at any time.