Sky Cinema on the go
Your own portable cinema

If Sky Cinema, the new home of Sky Movies, is part of your Virgin TV package then boy, have we got you covered. You'll be able to watch Hollywood blockbusters, including a new premiere every day, on your PC, Mac, iPad, iPhone, iPod touch or Android device. You can watch all 11 Sky Cinema channels live or pick a film you fancy on demand. Just connect to WiFi, 3G or 4G and choose from over 1000 of the latest and greatest blockbusters. And what's more, you get all of this at no extra cost!
Haven't got Sky Cinema yet? Upgrade now.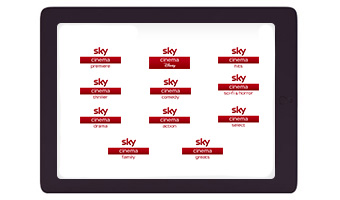 All the action, live
Watching on the go has never been easier. As long as you're in the UK and connected to WiFi, 3G or 4G you can watch up to 11 live Sky Cinema channels depending on your package. Those long haul journeys are about to get a whole lot more interesting.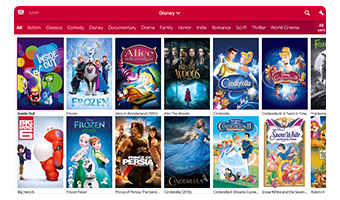 Sky Cinema On Demand
Devoted to drama? Rom-coms leave you weak at the knees? An aficionado for action? Then have we got the movies for you. Sky Cinema On Demand offers over 1000 movies, from the all-time classics to hot new titles – whenever you like, at no extra cost.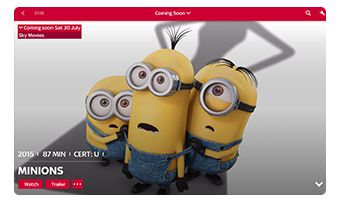 Behind the red curtain
Sky Cinema isn't just about watching films. You'll have a whole multimedia database at your disposal. You can read up on the director and cast, check out movie synopsises and even read other viewer reviews before you make your choice. And the list doesn't end there. Just see for yourself:
Daily picks – editor's choice of the best movies available to watch
On Sky Cinema – a full list of every movie available on demand. Watch movies, trailers and add your favourites to your shortlist
Coming soon – check out what movies are making their way to Sky Cinema and bookmark them for when they come out
Sky Cinema Disney – view all the Disney films available to watch, see trailers and add your favourites to your shortlist
My Shortlist – store all your favourites where you can find them
Get more information on the movies you want to watch
TV Guide – see what movies are playing right now across all 11 Sky Cinema channels