Internet on the move | Stay connected – Virgin Media

Staying connected while you're out and about

How cool would it be to have our brilliant broadband with you wherever you go? With Mobile Broadband and wi-fi hotspots, you're always connected – so you can get the latest news, chat to friends or stream music, anywhere you like.
Existing customers
Upgrade to one of our great Collections
Upgrade now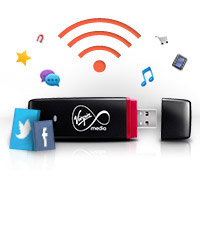 Mobile Broadband
It lets you browse the web, check your emails, keep in touch with your friends on Facebook or take your business with you when you're on the move.
It uses our third-generation mobile network (known as 3G) to provide a fast and stable connection and covers an impressive 85% of the population.
Wi-fi hotspots
Remember when using your smartphone that it's always best to use a wi-fi connection whenever possible. Not only does it give you much faster speeds, but you also never have to worry about eating into your mobile download limits.