TiVo – TiVo Service – Suggestions | Virgin Media

Your little box of bright ideas
It doesn't take long for TiVo® to get to know you. And once it has, it's clever enough to recommend you more of the TV you love. Even better than that, it can save it for you automatically so you don't miss a thing.
Existing customers
Upgrade to one of our great Collections
Upgrade now

Watch shows we think you'll love
TiVo doesn't just suggest any old stuff – it will pick shows and films that are relevant to the things you already watch, rate or record. They'll be saved in a special folder in My Shows or available on demand, ready for you to watch when you want. The clever thing is Suggestions won't replace the shows you've chosen to record. And they're always the first to be deleted to make room for specific recordings you've set up.
How to see your recorded Suggestions
Step 1
All your recorded Suggestions are listed in My Shows in a Suggestions folder.
Step 2
You can watch, rate and delete them just like any other shows.
See how TiVo Suggestions works

Use your Thumbs
While you're watching TV, or scrolling through the TV listings, you can rate any show with the 'Thumbs Up' or 'Thumbs Down' buttons on your remote.
Your TiVo service then remembers what you like and what you don't, so it can suggest new things you're more likely to love.
For example, if you like The Simpsons, it might suggest you try Family Guy. And the more you use it, the more accurate the Suggestions will become.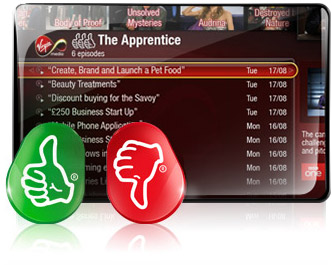 How to rate
Step 1
You can rate any show – whether it's live and showing now, recorded, or listed in the TV Guide.
Step 2
If you love it, press Thumbs Up on your remote, up to three times if you think it's brilliant.
Step 3
If you don't like it, press Thumbs Down on your remote, up to three times if you really didn't like it.
Cabled areas only. New 12-month minimum term contract applies. Installation fee. TiVo box remains property of Virgin Media. Further legal stuff applies.
TiVo and the Thumbs Up logo are trademarks or registered trademarks of TiVo Inc. and its subsidiaries worldwide.