Sky Cinema now on Virgin TV

7th July 2016
Say hello to Sky Cinema, the new home of Sky Movies
Something rather special is happening to Sky Movies. From 8 July, you can enjoy new premieres every day, the biggest cinema releases on the small screen, plus better sound, too. No wonder, all these fabulous additions come with a new name. So, say hello to Sky Cinema on Virgin Media!
With over 1,000 movies to watch on demand – including Mission Impossible: Rogue Nation, Minions, Ant-Man and more – film fans won't be able to contain their excitement. And that's just the start of it. With dedicated pop-up channels and the awesome Sky Cinema app, there's a whole new world of entertainment just waiting to be enjoyed both at home and on the go.
Want to know more about our five favourite new features on Sky Cinema? Allow us to fill you in…
1. There's a premiere every day
From jaw-dropping action to the best family movies, Sky Cinema is releasing a new premiere every day! Among the treats coming up are the thrilling SPECTRE and the Oscar-winning Steve Jobs. And there's plenty more where they came from, with the likes of The Martian, Star Wars Episode VII: The Force Awakens and The Good Dinosaur all coming soon, too.
2. It's bigger, better and blockbustier
With more of the biggest blockbusters – including Mission Impossible: Rogue Nation and The Man From U.N.C.L.E – Sky Cinema is the place to be for fans of major movie moments. With the top films showing just eight months after hitting cinemas, you'll be right at the heart of all things film.
3. It sounds brilliant
Ready to watch the diminutive Ant-Man and worried you might not be able to hear him? Fear not, for though he may be small, you'll be able to catch every single word with Sky Cinema's new and improved sound when you watch films on demand. It gives you a brilliant cinematic experience from the comfort of your sofa. All you need to do now is sit back and enjoy the best films on the box. Which leads us to point four...
4. There's so. Much. Choice
You've basically got your very own library of amazing movies at the touch of a button. Want a family favourite? Check out Minions. Something spooky more your thing? Then Crimson Peak is the film for you. Yearning for a heart-warming coming-of-age tale? Me And Earl And The Dying Girl is sure to bring a tear to your eye. There are over 1,000 films waiting to be watched.
5. And... you can take it on the road with you
Did we mention that you don't have to stay on your sofa to enjoy all the excitement either? Just download the Sky Cinema app from Google Play or the App Store and you can watch the biggest stars of the silver screen, wherever you are, on your mobile, laptop or tablet.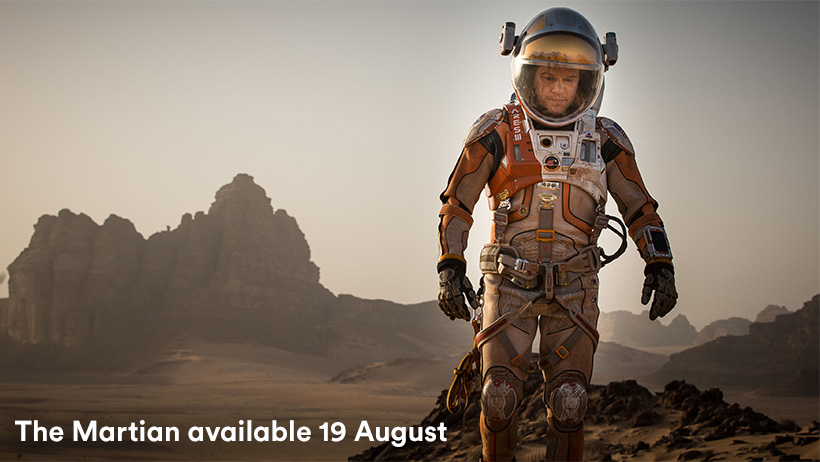 Minions © 2015 Universal Studios. All Rights Reserved. Spectre © 2015 Danjaq, LLC, Metro-Goldwyn-Mayer Studios Inc. and Columbia Pictures Industries, Inc. All Rights Reserved. Mission: Impossible Rogue Nation © (2016) Paramount Pictures. Ant-Man © 2015 Marvel. The Martian © 2015 Twentieth Century Fox Film Corporation and TSG Entertainment Finance LLC. All rights reserved. You must subscribe to Sky Cinema in SD to take these channels in HD. Sky Cinema: Only available via the Sky Cinema app or website to customers who subscribe to these channels. Separate End User Licence Agreements and terms and conditions apply to the Sky Cinema app and website. Live streaming and On Demand available in UK with broadband, WiFi or 3G. TiVo tools for TiVo customers only. Minimum 800 kbps recommended per device accessing the service. Maximum of 2 devices per account can watch up to 2 concurrent streams at any time. Customers also need an active 3G/4G or WiFi signal to use the app.