TiVo – TiVo Service – Getting Started | Virgin Media

Take control of your new TiVo® box
It couldn't be easier to get to grips with your new TV service. Here you'll find a handy guide to your TiVo service's main features. Watch our step-by-step videos. Or follow the 'how to' instructions below.
Existing customers
Upgrade to one of our great Collections
Upgrade now

Find your new favourites with the Discovery Bar
Sick of watching the same old shows?
The Discovery Bar is here to help you. It recommends new things for you to try. There's a constantly updated list of shows you might like, based on the TV show you're browsing, the most popular shows and our favourites too.

How to use the Discovery Bar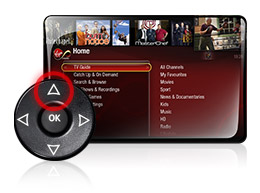 Step 1
From the top item in the menu, use the 'up' arrow to move into the Discovery Bar. When you highlight something in the bar, you'll see more details about it.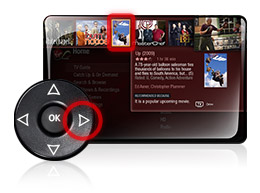 Step 2
Press the 'backward' arrow and 'forward' arrow to move around the bar.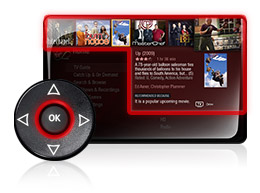 Step 3
Press OK to find out more about a show.

Missed your favourite show? Catch Up later.
Your TiVo box lets you scroll back in time using your TV Guide and watch any show from the last seven days that displays a Catch Up TV symbol. That includes all your favourites on Channel 4 and Channel 5.

How to watch Catch Up TV from the TV Guide

Step 1
Go to your TV Guide. Select your channel and press or to scroll back through the history of shows.

Step 2
Shows available as Catch Up TV are indicated with this symbol:

Step 3
Highlight the show you want.
Or you can select the Catch Up & On Demand option from the Home menu and take your pick.
You can also watch your favourite BBC shows through the iPlayer app.

Record a series with the touch of a button
How to create a Series Link
Step 1
Press Guide on your TiVo remote.
Step 2
Highlight the show you'd like to record and press OK.
Step 3
Select Series Link & Other Options.
Step 4
Press OK.
Step 5
Select Get a Series Link.
You've got all this great TV to watch, but you're not always around to catch it. Wouldn't it be good if your TiVo box saved it for you, ready for you to watch when you've got a moment? And not just a movie or an episode, but a whole series.
Luckily your TiVo box has enough space to store all your favourites.
If a show is part of a series, you can create a Series Link. This will automatically record every episode of the series that airs on the selected channel, even if the time slot changes.
You can also catch up with some of your favourite shows using the BBC iPlayer, 4oD and Demand 5 apps on your TiVo box.

Deleted something by accident? It's easy to undo.
Deleted something you shouldn't have? All is not lost. You can simply retrieve it from your Deleted Items and you're back in business again.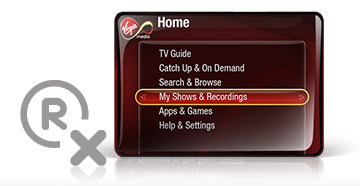 How to retrieve deleted recordings
Step 1
Press My Shows on your remote control.
Step 2
Scroll to the bottom of the list and select the Recently Deleted folder.
Step 3
Select the show you want to rescue and select Recover this show.

Help direct to your sofa
Everyone needs a little help now and then. So we've created a special Help app on your TV to cope with any hiccups you might have with your TiVo service.
You'll also find all sorts of information about other Virgin Media products and services while you're there, too. It's a one-stop help shop you can access any time, from your sofa.
Need to adjust your settings?
You can set up your TiVo service just the way you want it. Fancy creating a list of your favourite channels? Or adjusting your parental control settings, so you can shield what your little ones see? It's easy to do.
Have a look at our online TiVo help section for more information.
How to find the Help app
Step 1
Select Help & Settings on the Home screen.
Step 2
Select Help.
Cabled areas only. New 12-month minimum term contract applies. Installation fee. TiVo box remains property of Virgin Media. Further legal stuff applies.
TiVo and the Thumbs Up logo are trademarks or registered trademarks of TiVo Inc. and its subsidiaries worldwide.