Set up Direct Debit – Discover – Virgin Media
Pay with Direct Debit

Direct Debit is the quickest and easiest way to pay your bill.


Two great reasons to pay by Direct Debit
Save time and hassle

No messing around with cheques, cash or credit cards here. Instead, your bill is paid automatically by your bank, so you don't need to do a thing.

Peace of mind

Direct Debit is the simplest way to make sure your bill is paid in full and on time each month. If you want to set up a Direct Debit, it's easy.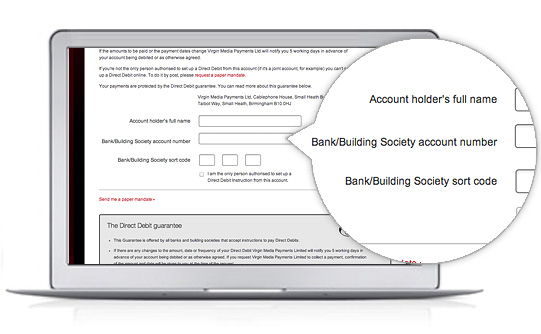 How to set up your Direct Debit
3. Under ''Your accounts & payments', click Set up Direct Debit.

4. Fill in the Direct Debit form. Make sure you have your bank details handy.

5. If you also have a Virgin mobile phone subscription, you will need to set up separately a direct debit for your mobile. Sign in to your Virgin Mobile account and follow again the steps above.


Save even more with eBilling
Remember you can save £21 a year, just by switching to eBilling. More about eBilling
Need a bit of help with your bill or anything to do with your Virgin Media services?
Where to go for help