TiVo – Discover TiVo – Apps | Virgin Media

Handy little apps for your big screen
Get yourself a TiVo® box and you can enjoy web apps for some of your favourite websites such as YouTube, BBC iPlayer, Twitter and eBay in glorious detail on your TV's big screen.
Existing customers
Upgrade to one of our great Collections
Upgrade now

Enjoy the best of YouTube and more
Some things look much better on a big screen. That's why our TiVo® service lets you enjoy the best of YouTube, all your favourite BBC iPlayer programmes and more on your TV in their full glory.
Want to keep an eye on all your bids, tweets and updates? You can get it all on your TV screen, too. Check your bargains on eBay, keep up to date with Twitter, and check out your photos on Facebook.
You can enjoy Spotify on your TiVo® service too, giving you direct access to all your playlists, so you'll have all your favourite music streaming through your TV.
What's more, your box has its own up to 10Mb fibre optic broadband connection so it won't slow down your regular broadband service if anyone else in your home is online. And because your TiVo® box is hooked up to the web, it'll automatically download the latest apps.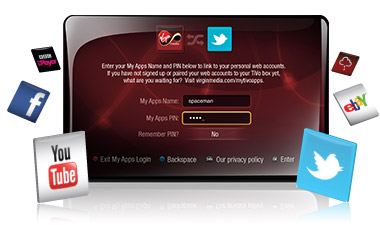 See how to enjoy web apps and games through TiVo broadband
Or watch the TV you love on your small screen
If you're a TiVo customer with an iPad, iPhone or iPod touch, you can download our free Virgin TV Anywhere app. It lets you control your TiVo box like a supercharged remote control, manage what's on your box and record programmes when you're nowhere near your telly. The tablet version even lets you stream up to 40 live channels, anywhere with WiFi.
More about Virgin TV Anywhere
Cabled areas only. New 12-month minimum term contract applies. Installation fee. TiVo box remains property of Virgin Media. Further legal stuff applies.
TiVo and the Thumbs Up logo are trademarks or registered trademarks of TiVo Inc. and its subsidiaries worldwide.
Free activation when you take a 500GB TiVo box as your first box. Installation fee (£49.95) applies.